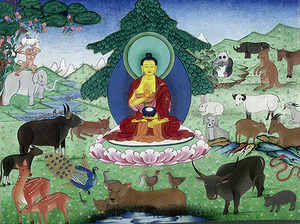 Shambhala St. Petersburg Thanksgiving Retreat Online
with Shastri Will Ryken
This program will be offered by Shambhala St. Petersburg via ZOOM This is main Zoom room listed on the main home page.
A city weekthün, or week-long practice intensive, is a unique opportunity to deepen one's meditation practice without going far from home. New and experienced meditators are welcome. This week of meditation will focus on sitting meditation with talks, meditation instruction, and contemplative lunches. Each day consists of periods of sitting and walking meditation, chants, talks, and a short work session. We will include a session of White Tara practice each day.

Participants are welcome to join for all or part of the weekthün. Partial participation is $20/day, or what you can afford, no one will be turned away for inability to pay. Or join for an hour or two as you have time.
The weekthün is a core requirement for several programs along the Shambhala path such as Shambhala Guide Training and Enlightened Society Assembly. Full participation in the city weekthün will count toward the weekthün requirement for these programs.
On Thanksgiving day we will offer a Feast together - details to come soon. Even if you are not participating in the Weekthum, join us for a Sangha Thanksgiving feast.
Here's the registration link.