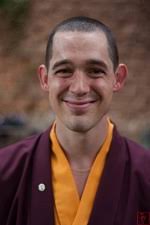 Heartbreak and Healing: A Taste of Lojong for These Times (ONLINE - A Saturday Night Live Dharma event)
with Loden Nyima
Please join us online for another presentation in our Saturday Night Live: Dharma series. This month we welcome Gelong Loden Nyima. Here's a passage from his recent blog:
We're living in what's known as a kaliyuga or a dark age in Buddhism. These are times in which the mass amalgamations of many years of actions arising from greed and over-consumption, ignorance, and aggression have co-created a world with environmental crisis, pandemic illness, resource depletion, injustice, and war. This is not new, and involves yet is bigger than us. It's been occurring for thousands of years and is only getting more intense. Likewise, the need for us to respond with wisdom, compassion, and courage has never been more urgent. But how do we do so when we're feeling overwhelmed, scared, stressed out, furious, uncertain, isolated, grieving, defeated, or numb? How do we even begin to heal ourselves?
Learn how to respond to your personal suffering and the suffering of those you care for --family, communities, regions -- in this thoughtful talk and discussion about living in difficult times.
In this talk we will explore and practice a few on-the-spot meditation techniques for working with pain and difficult emotions, and using them to awaken our wisdom and compassion.