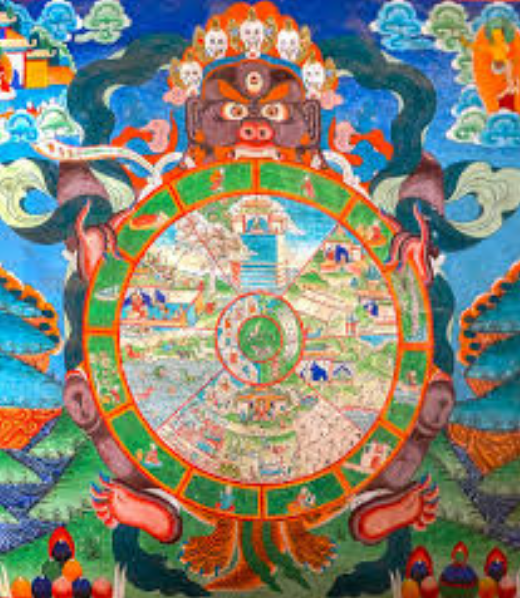 Second Noble Truth -- The Origin of Suffering, Part II: Wheel of Life, Karma, and the Twelve Nidanas.
The foundational teachings of the Buddha indicate that the suffering we experience in our lives can come to cessation if we recognize, deeply and profoundly, how that suffering has arisen. This requires gentle bravery and deep contemplation, bypassing simplistic notions of how our suffering has arisen. The Buddha provided powerful models for this contemplation through the interrelated teachings of karma and kleśa, or destructive emotions, as exemplified in the Wheel of Life. Drawing from the contemporary insights of our Shambhala Buddhist lineage, we will tread the ancient path of the Buddha.
The course includes:
Recorded talks by an Acharya Judith Simmer-Brown and Gelong Loden Nyima followed by a live discussion facilitated by Steve and Laura Simmons
Readings and book suggestions to deepen our understanding of these teachings
Contemplations to help us integrate these fundamental teachings into our daily lives
A suggested practice schedule.
This course will be held online while the Shambhala Gainesville building is closed. The zoom link will be sent to registrants close to the first day of class.
Register early to save! Early bird pricing ends on August 19th. Registration closes on Sept 6th. A minimum of four participants is needed to avoid cancellation.
Acharya Judith Simmer-Brown retired as Distinguished Professor of Contemplative and Religious Studies at Naropa University in Boulder, Colorado, where she was a Founding Faculty member. She is an Acharya in the Shambhala lineage, and was Director of Shambhala's Ngedon School for Higher Learning for many years. She is the author of Dakini's Warm Breath: The Feminine Principle in Tibetan Buddhism and Meditation and the Classroom: Contemplative Pedagogy for Religious Studies.
Gelong Loden Nyima is a fully ordained Buddhist monk. He lived at Gampo Abbey from 2009 – 2017 where he completed shedra studies, practiced intensively, and served in various roles including as Shastri. He now lives and teaches at Shambhala Mountain Center, and spends a portion of each year in retreat.