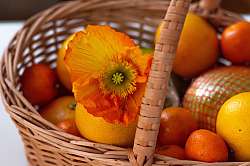 Harvest of Peace Celebration (in-person)
Harvest of Peace is one of four annual Nyida Day celebrations in Shambhala culture. Each of these holidays mark the changing of the seasons, hence the name Nyida Day (Nyi = sun and Da = moon). This seasonal transition, the autumn equinox in the northern hemisphere and spring in the southern hemisphere, occurs officially on September 21st this year; we will celebrate on Saturday, Sept. 18th.
Harvest of Peace is a time where we foster closeness and community in our local sangha, with practice and socializing. This is powerful and nourishing, especially during this ongoing time of uncertainty and groundlessness for our community. Just being together to practice and enjoy good company is a great offering of sangha for each other.

This year, we are excited to be partnering with a local artist, Celino Dimitroff, of Soma Art Media Hub to create an autumnal art piece together. We will start our day with meeting at Depot Park at 9:30 AM for socially distanced hello's, and some outdoor meditation.

Then, we will walk the short distance to Celino's studio- Soma Art Media Hub at 435 South Main Street (Celino has said that there is parking near his studio at Main Street and NE 5th Avenue, if you'd like to park there and then walk to Depot Park). There we will create a communal celebration of autumn piece of art together!

Here's Celino's description:
This is going to be such an auspicious day, where spirit and wonder meet. I couldn't make it any more reverent, because of the very nature of the day/night... Thank you for the opportunity... I'm honored that you would have me be a part of the celebration...
Since we hope to honor this day, the ultimate plan is to capture the day, by providing a canvas and gathering in the courtyard for moment of reflection, in order for everyone who is present to (sign) the canvas and add a brief comment of their (thought, hope, wish or dream) for the seasonal transition. I will affix all items, baubles or trinkets to the canvas and return it to the Shambhala center when I complete this task.
The open air and space of the courtyard has a sort of calming effect on anyone that walks into it...I am more than happy to share this space with you... Join us and celebrate, rejoice and most of all.... bond!!!!
As Celino suggests, feel free to bring with you any item which reminds you of our autumnal season which would you like added to our canvas. We will eventually have this framed piece at our center for us all to enjoy.
You may also wish to bring your own chairs and water bottles.

Donations towards this event cheerfully accepted!

In case of rain, we will meet at Celino's courtyard (435 S. Main) directly at 10:30 AM, where we will be outside and under tents.



Photo by Elena Mozhvilo on Unsplash