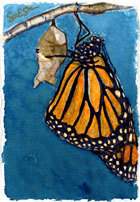 SE Region - Birth of a Warrior: Shambhala Training Level II (Hybrid)
with Dr. Jessica Gurvit
Meditation practice allows us to observe how we create a cocoon of habits to mask our fear. We begin to appreciate that there is no fundamental obstacle to experiencing basic goodness.
Birth of the Warrior, the second weekend of the Way of Shambhala series, intensifies the discipline of meditation practice, enabling participants to work with obstacles that may have arisen as meditation practice develops. We also explore how habitual ways of thinking and experiencing obscure the raw brilliance of the world we live in and our own genuineness and tenderness. Finally, we learn how to work with the fear that occurs when we move forward out of these habitual patterns.
Birth of the Warrior is the second training in the 2022 5-training series. The remaining programs are:
June 3-5: Warrior in the World with Craig Sargent (hybrid from Lexington, KY)
September 9-11: Awakened Heart with Jackie Muse (hybrid from Atlanta, GA)
December 9-11: Open Sky with Janet Bronstein (hybrid from Birmingham, AL)
The program includes meditation instruction, talks by the Director, group discussions, guided contemplative practice, and individualized instruction.
Pre-requisite: The Art of Being Human: Shambhala Training Level I.
Pricing:

Early Bird Price (register before February 26th): $150
Regular Price: $170
Repeat price: $75 (For those who have already taken this program.)
Resources from this program are shared among centers in the Southeast Region of the U.S. according to the number of registratrants from each center.
Location
This program will take place online and possibily at the Shambhala Gainesville center if local participants are interested in gathering and if the Covid situation has stabilized. Masks will be required.
Shambhala Meditation Group: 1899 NE 23rd Avenue, Gainesville, FL 32609.

No one is turned away from a program for lack of funds. Contact Jan Snyder, our Group Coordinator, for information about our Generosity Policy.