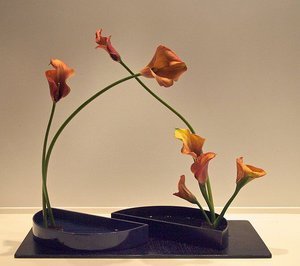 Ikebana Workshop - Saturday only
with Brooke Pohl
Brooke Pohl has been practicing and teaching ikebana for over 30 years throughout North America, including at Shambhala Centers in Chicago, Atlanta, Gainesville, Birmingham, and Columbus. She studied with her teacher, Noriko Fields, a master with the Sogetsu School (the same school the Vidyadhara explored with Stella Coe when he lived in England). Presently, Brooke studies with Belgian artist, Ilse Beunen.
Basics will be taught on Saturday, and Sunday will take the basics further and also explore freestyle arrangements. Participants may attend two days for $150, or Saturday only for $90. There is a $15 materials fee.
There are a limited number of spaces -- please sign up early.
This is the web site for the Saturday Only option. To register for the Weekend Option, please click here.