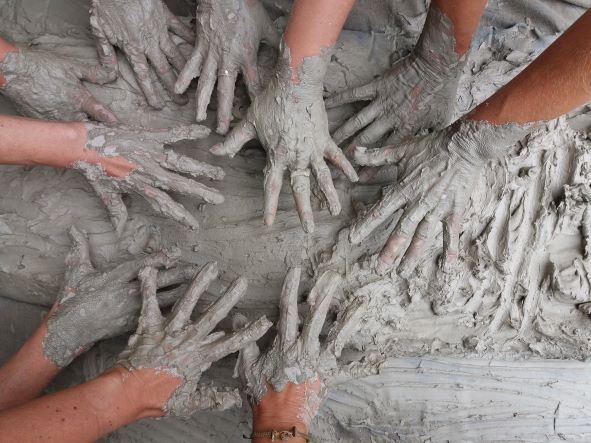 Harvest of Peace Celebration

Come celebrate the change in seasons!
We'll meditate, share brunch ... and play with clay.
Following our regular Sunday meditation practice (10:30 am - 12:30 pm), we will gather for a pot-luck brunch (please bring a dish to share) joined by pottery artisit Kate Murray. Following brunch, the group will go to Kate's nearby studio for an exercise that uses pottery and a focus on some contemplations about how our minds work. You are welcome to join us for all the planned activities, or you may just attend the brunch and socialize with sangha.
Kate is a well-know local artist and a teacher at Sante Fe. Click here to meet her on YouTube.
Biography: Kate Shakeshaft began making pottery purely for fun as an English major at Grinnell College in Iowa. She has never stopped. Kate has a BFA in ceramics, sculpture and drawing from the University of Iowa, and an MFA in ceramics from the University of Florida. Between degrees she worked for five separate production potteries in Vermont, and after graduate school taught full-time at Francis Marion University in South Carolina. In 1997 Kate returned to Gainesville, FL, to set up a studio with her husband Don Murray. Don died in 2006; in 2008 Kate Murray began teaching ceramics at Santa Fe College in Gainesville.
She has an extensive national exhibition record including seven appearances in the Strictly Functional Pottery National, and has won recognition as an Emerging Artist at NCECA (National Council for Education in the Ceramic Arts).
Artist's Statement: Pottery is expressive of being human, having a body that lives in the day-to-day as well as a rich metaphorical mental life. I make pots, mostly thrown on the wheel, that are influenced by historical pottery from Mediterranean cultures, Asia, and the Americas, from the Neolithic to the present moment. The most successful work has autobiographical elements, yet the life experiences reflected in the work are common: sexy youth, fortitude in difficulty, grief, reaching for equanimity.
Cost:: We are requesting a $10 donation so we may offer an honorarium to our guest artist
Must register: Please register by September 13th to avoid event cancellation. We need at least 8 participants registered to offer our "play with clay" activity.
Photo credit: Karen Maes on Unsplash