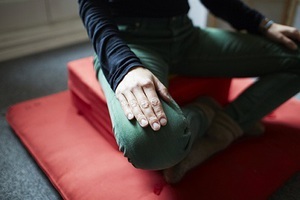 Tuesday Meditation Practice & Study (Online & In-person)
One hour of meditation practice (sitting, walking, compassion practice) followed by a brief book discussion or dharma talk. We are currently reading Comfortable with Uncertainty: 108 Teachings on Cultivating Fearlessness and Compassion by Pema Chodron. You do not have to own the text, we will screen share with you.
On the Tuesday closest to the full moon, instead of book discussion, we will sit for 30 minutes and then practice the Shambhala Sadhana, a long chant inviting contemplation about the basic goodness of self, groups and society.

New to meditation practice? Please plan to join an instructor in a separate breakout room for a short introduction to the practice.
For ZOOM link and password, please email: [email protected] (Note: Heart of Recovery uses our zoom room until 6:45 pm. Please enter room after 6:50 pm)